Pinion gear and Slewing Rings should be adjusted so that they operate with about 90 ° to the loading axis.The operating clearance of the pinion gear and the Slewing Rings should be adjusted as Module x 0.035 as shown in Figure 1. If more than one pinion is used, this adjustment should be repeated for each pinion.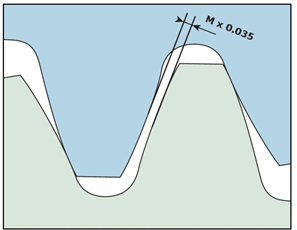 These adjustments should be made from the parts painted blue on the .
After all adjustments and tests are made and it is ensured that the operating clearance and the gear thrust surfaces are parallel to each other, lubricate the gears. For more detailed info on lubrication, please check "Lubrication and Maintenance" section.